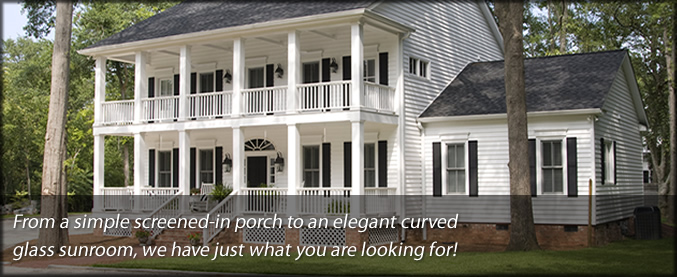 Screen Porches
Want to enjoy the beauty of the outdoors while staying, cool, dry and bug free? Well, with a beautiful screen porch from ENLOE Residential, you can do just that. There is nothing that can add to the beauty and value of your home like a wonderful, spacious and affordable sunroom or screen porch from ENLOE Residential.
All of our room additions are made using the finest and most energy efficient materials on the market today. We offer a variety of styles which allow you to choose the color, the layout and the roof style that would best complement your home.
Available in every size and dimension you can imagine, the design selections are limitless and will complement any architecture and decor allowing you to turn an empty patio into a place of refuge. A screen porch from ENLOE Residential will provide you a place that you can retreat and relax from the stress of the day.
So, what are you waiting for? Pick up the phone and call us at 706-863-5538 for a free estimate on adding a beautiful screen porch onto your home.