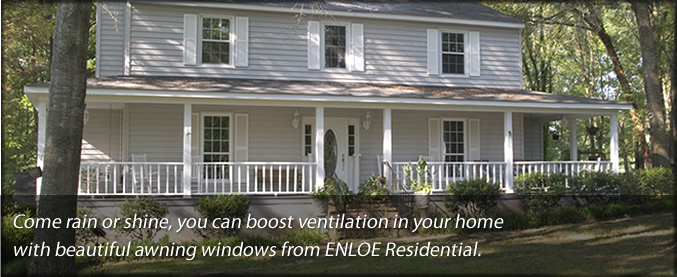 Awning Windows
Come rain or shine, you can boost ventilation in your home with beautiful awning windows from ENLOE Residential. If the location of your window requires reaching, such as over a counter or sink, an awning window is the perfect replacement window for you.
With ENLOE Residential's awning windows, you can enjoy the benefits of natural light and ventilation in areas where other window styles would be inappropriate. ENLOE Residential's awning windows keep the weather out while allowing the cool air into your home. Convenient crank hardware facilitates easy opening in hard to reach places.
All of ENLOE Residential's windows are crafted using the finest, most energy efficient materials on the market today. That means that they will not only add to the beauty of you home, but also save you money on energy costs.
So, give ENLOE Residential a call today at 706-863-5538 and we will come out and give you a free estimate on installing beautiful awning windows on your home.