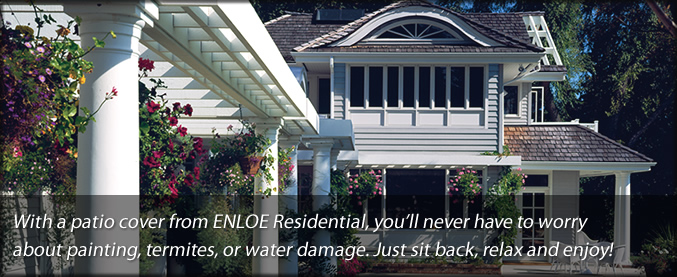 Patio Covers
Add to the beauty, value and enjoyment of your home with a patio cover from ENLOE Residential. Our patio covers are made of heavy-gauge aluminum that won't wear, won't crack, won't burn and won't rot. That means they are virtually maintenance free.
With a patio cover from ENLOE Residential, you will never have to worry about painting, termites or water damage. Just sit back, relax and enjoy!
Choose from our standard single skin cover, or our popular insulated cover that reduces heat build-up and can accommodate electrical raceways for outlets, fans, lights and misters.
You can even combine our lattice and solid cover so that you can lounge in total shade while your plants get all the sun and rainfall that they need.
So, turn that wasted space into a place of relaxation with a Patio Cover from ENLOE Residential. ENLOE Residential proudly serves all of Aiken-Augusta, North Augusta and surrounding areas. Give us a call at 706-863-5538 and we will give you a free estimate.