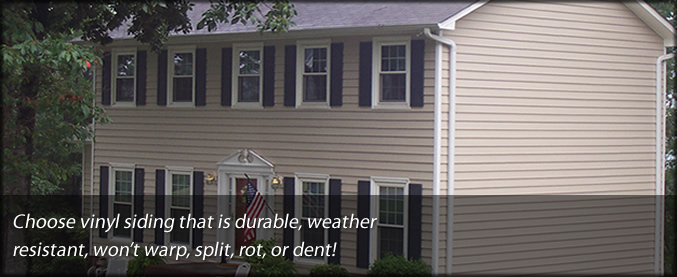 Vinyl Siding Aiken-Augusta & Surrounding Areas
When it comes to vinyl siding, ENLOE Residential is the company to choose. ENLOE Residential's vinyl siding is durable and weather resistant so that it won't warp, split, rot or dent. It never needs scraping, sanding or painting because the color goes straight through the panel. All you have to do is give it a rinse with the garden hose every now and then to keep it looking like new.
Unlike ordinary siding that has no support leaving it open to air and noise, ENLOE Residential's vinyl siding is insulated, stopping air infiltration keeping your home quieter and more energy efficient. We have several different styles and colors to select from so that you can choose an option that best suits your home.
Charter Oak
The only premium vinyl siding to offer the TriBeam design system. It spans uneven walls smoothly for a lifetime of beauty. Choose from rich oak grain or matte texture, classic profiles and 19 low-gloss colors.
Board and Batten
Accent special areas with vertical Board and Batten siding. The rich detailed beauty creates bold, vertical lines.
Enjoy the beautiful look of custom-cut wood siding without routine maintenance. Suit the style of your home with our Architectural Classics II, Vinyl Shakes and Scallops premium vinyl siding. It's durable and available in five low-gloss colors that look like paint!
Williamsport Colonial Beaded
Continue great colonial tradition with the detailed elegance of this siding. Williamsport Colonial Beaded is available in a subtle wood-grain texture with a low-gloss finish to fully complement your home.
Our vinyl siding trim and accessories add detail to your home. Trimworks decorative accents are inspired by the beautifully hand crafted wood trim details found on the finest homes in America. For outstanding corners, choose from smooth lineals, fluted lineals, beaded cornerpost, and fluted cornerpost. Most of the pieces are available in 20 different colors.
So let ENLOE Residential make your home the most beautiful home on the block by installing our maintenance free vinyl siding. ENLOE Residential proudly serves all of Aiken-Augusta, North Augusta and surrounding areas. Give us a call today at 706-863-5538 and we'll be glad to schedule an appointment to give you a free estimate.