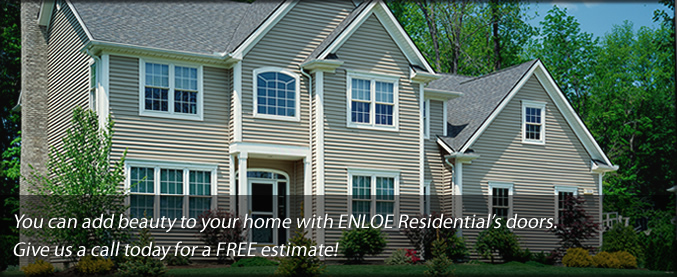 Aiken-Augusta Door Company
ENLOE Residential has everything you need to make your house more beautiful as well as more energy efficient. From our vinyl siding, insulated replacement windows right down to the front door. That's right ENLOE Residential carries a variety of doors that can not only add to the beauty of the entrance of your home but can also help to keep your house warm and cozy or cool and comfortable.
We carry a wide variety of styles and colors that you can choose from. All of our doors come with a lifetime limited warranty and are made with the finest, energy efficient materials on the market today. You can add additional beauty to your custom door with ENLOE Residential's polished or antique hardware which come in an array of styles and are available in solid brass or brass plated. Find out more about our beautiful Aiken-Augusta doors.
Aiken-Augusta Door Contractor
Whether it's durable storm doors, sliding patio doors, fancy French doors, or beautiful swing patio doors, we've got them all right here at ENLOE Residential. We proudly serve all of Aiken-Augusta, North Augusta and surrounding area. So give us a call and we'll give you a free estimate.