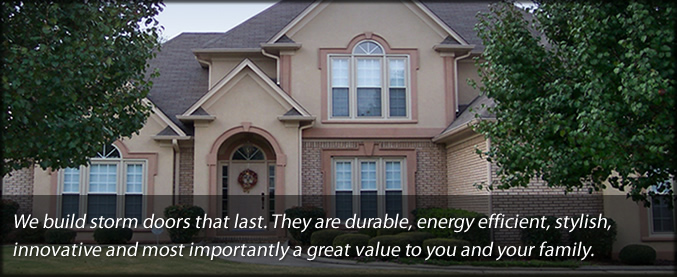 Storm Doors
When it comes to saving energy, ENLOE Residential's storm doors will do you just that. Our doors are made out of the finest materials on the market today. Just take a look at some of the features that are found on ENLOE Residential storm doors.
Draft-free magnetic sealing similar to refrigerator door seals
16 gauge steel frames
Unique double hinge reinforcement. All three hinges secured with machine screws to 10 gauge steel plates on both door and frame
Galvanized steel skin inside and out to deter rust
Interlocking thermally broken steel door edge
Heavy duty locks reinforced with composite material
Patented vinyl thermal barrier insert prevents thermal conduction
Adjustable aluminum threshold prevents rain and air penetration.
Inside thermal nosing prevents cold conduction
Bottom sweep is constructed with triple compression tubes and an extruded vinyl sweep blade making contact with the threshold and preventing drafts
When you get storm doors from ENLOE Residential, you are not getting a door that you would find at the local home improvement store. You are getting a custom made, durable, weather resistant, storm door that will not only add beauty and value to your home, but will help to keep both the weather and the intruders out while helping keep you and your family comfortable and safe within.
Our storm doors come in a variety of styles and colors allowing you to choose which one will best complement your home. So, give ENLOE Residential a call today and let us tell you more about our storm doors. Our number is 706-863-5538. So, give us a call and we will give you a free estimate.