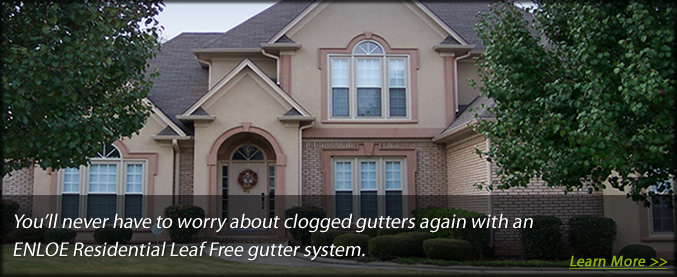 Gutters Aiken-Augusta
Traditional, open-top gutters collect leaves and debris keeping them from doing the job of protecting your home from water damage. Clogged gutters can cause widespread damage to your home's foundation and cause unsightly water staining. Cleaning and unclogging gutters is a hard, dirty, and dangerous task. However, when you install ENLOE Residential's leaf-free gutters with gutter protection, your mind can be at rest knowing that your gutters will remain unclogged year in and year out to protect your home and saving you time, money and a lot of hard work.
ENLOE Residential's Leaf Free Gutter and Hood System has a wide gutter and works based on liquid adhesion. The water actually adheres to the leaf free hood and drains down into the extra-deep seamless gutter. With this system, the leaves stay out allowing the water to drain in and then be channeled away from your home.
Not only is this gutter protection system effective in protecting your home, but it also adds beauty to it. ENLOE Residential's K-Guard gutters are smooth and curved and come in a variety of colors to blend with your home. They can be installed on any type of roof, including slate and Spanish tile.
Aiken-Augusta Gutters Installation
So, let us take the load of clogged gutters off your shoulders once and for all. We serve all of Aiken-Augusta, North Augusta and surrounding areas. Give ENLOE Residential a call at 706-863-5538 and we will come out and give you a free estimate on installing the leaf free gutter and hood system on your home.