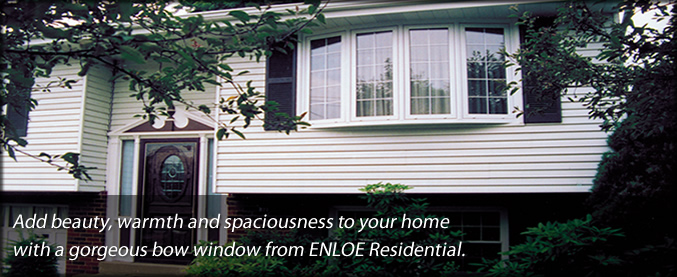 Bow Windows
Add beauty to your home with a gorgeous bow window from ENLOE Residential. Bow windows are designed to create space by projecting beyond an exterior wall providing a wider view than traditional windows. This adds warmth and spaciousness to your home.
Our bow windows, like all of our other windows, are crafted using the best and most energy efficient materials on the market. They are available in 5 degree and 10 degree angles and with either casements or fixed windows we have a style that will suit whatever your needs may be.
So, if you want to open up a special room in your house, adding depth, charm and beauty, then give us a call today at 706-863-5538. We proudly serve all of Aiken-Augusta, North Augusta and surrounding areas. We'll be more than happy to come right out and give you free estimate on adding a bow window to your home.